Tozluyaka series has been a bombshell this season. The young actors in the cast of the series, which made a great impression from the first episode, also made a great debut. Serra Pirinç, who played the character of Zeyno in the series, suddenly became so popular that she even surpassed Ebru Şahin, Cemre Baysel, Su Burcu Yazgı Coşkun.
Serra Pirinç was the winner of the August 2-8 Most Popular Actress report of Abda, which regularly monitors and reports on social media posts, with 91 thousand 100 shares. The young actress was loved by everyone with the character of Zeyno, who broke her grip in Tozluyaka. She became a very good duo with Özgür Foster, who played Ege in the same series.
Serra Pirinç left Ebru Şahin, who is the second on the list, by a very serious margin. Ebru Şahin, the leading actress of Destan (Epic), who was stated to say goodbye to the screens with a single episode to be broadcast at the beginning of the winter season, became the agenda of the social media with her wedding and honeymoon. During the week, 44 thousand 600 posts were made about Ebru Şahin.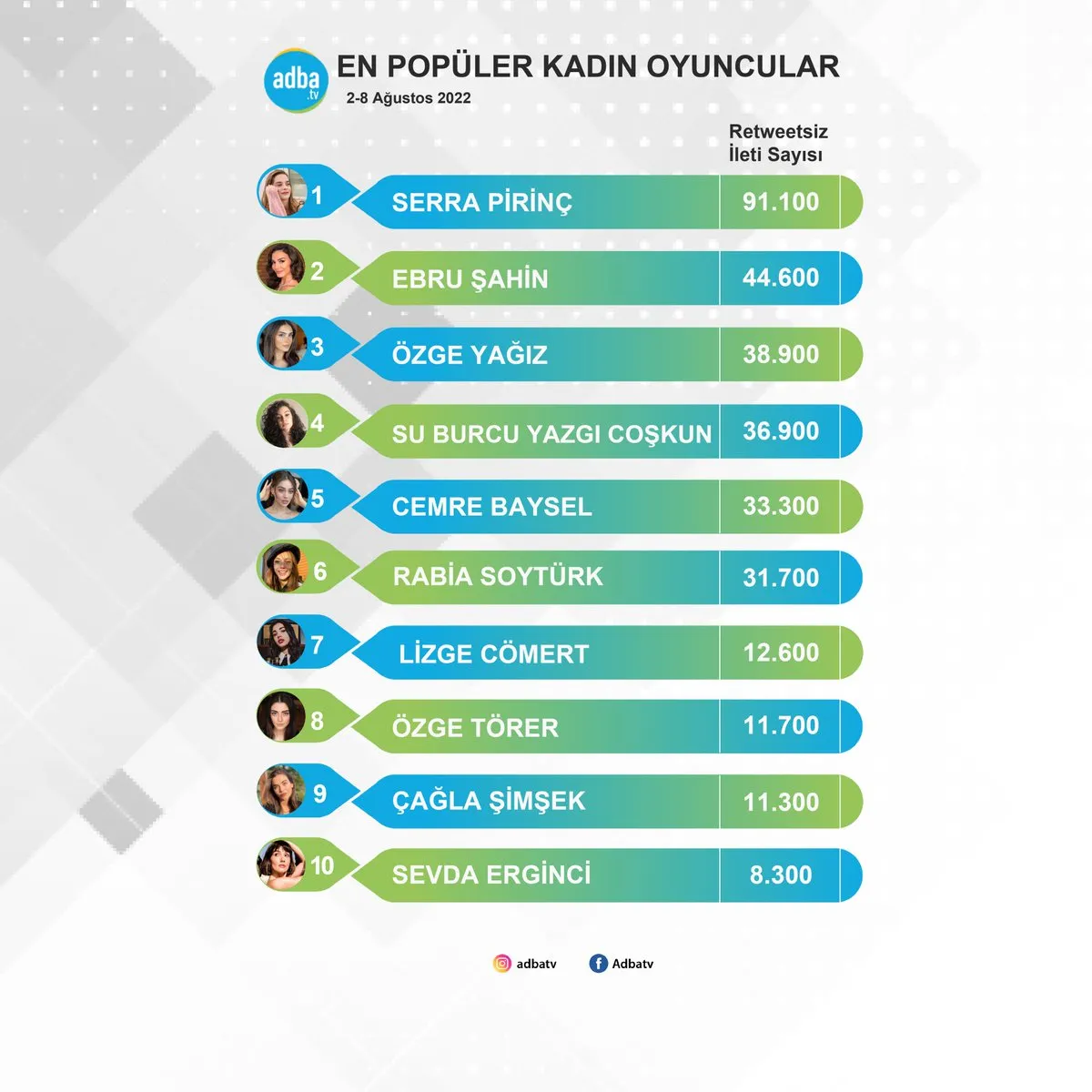 The third on the list is Özge Yağız. The number of shares made about Özge Yağız, who played a role in the TV series Baba (Father) and will appear in front of the audience with this series in the new season, was 38 thousand 900. Su Burcu Yazgı Coşkun, who portrayed the much-loved Asiye character in the TV series Kardeşlerim (My Brothers and Sisters), followed Özge Yağız.
At the age of 25, Serra Pirinç stepped on the sets of the TV series with Bizim Hikaye (Our Story) series in 2017. She starred in the TV series Vuslat, Mucize Doktor, Kağıt Ev and Saklı.
Serra Pirinç plays Zeyno, the young girl of the neighborhood, in the series Tozluyaka.
In fact, the love of Ege, who is an extremely good-hearted and soft young man, and Zeyno, who broke her hold and is not afraid of anyone, seems to be talked about for a long time. Because Tozluyaka, which has been very successful in the ratings, can continue in the winter season and stand up to Kardeşlerim series as a rival.