Demet Özdemir, one of the successful actresses of the young generation, was almost infuriated after a news about her and shared her feelings with everyone on her Instagram account!
The actress, who is currently starring in the TV series "Adım Farah" (My Name is Farah) with Engin Akyürek on Fox TV, came to the fore with allegations that she had argued with her husband Oğuzhan Koç in the tabloids and left the house, and came to the stage of separation.
The actress did not remain silent in the face of these asparagus news about her! The actress, who has always been in front of the media with her sympathetic, sincere and sincere attitude, always answering the questions openly and with her humble attitude, did not forgive this mistake made against her!
Demet Özdemir got married in August after a one-year relationship with singer and actor Oğuzhan Koç. The actress, who came to the agenda with the allegations of separation after 7 months, made harsh words by stating that she would be a plaintiff about the people who made these news, saying that she was under suspicion and an unscrupulous attitude was followed with a language containing violence!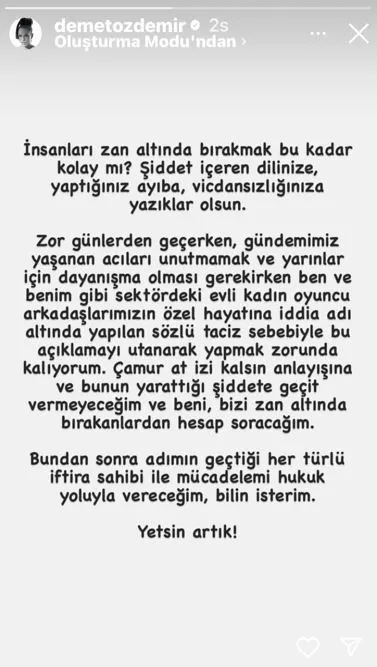 The actress, who participated in the aid campaigns for the disaster victims and worked hard for days in the earthquake disaster we experienced, had worked in organizations for a long time, like many of her colleagues.
Özdemir, who has been greatly appreciated by her fans for what she has done throughout this process, still continues to follow on social media to convey the necessary needs and some messages in the earthquake region, even though she is on the set of Adım Farah now.
While this sensitivity of the actress continues like everyone else, Demet Özdemir, who also added her sadness for coming to the agenda with some allegations about her private life, shared the following lines from her social media accounts…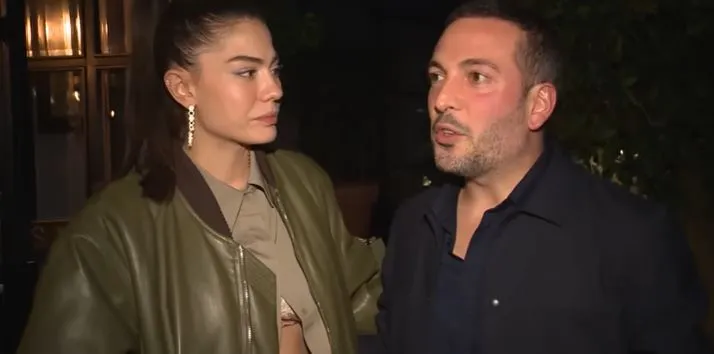 "Is it that easy to mislead people? Shame on your violent language, shame and unscrupulousness!
While we are going through difficult times, our agenda should not forget the suffering and solidarity for the future, but I am ashamed to make this statement because of the verbal abuse made under the name of claiming the private life of my married female actress friends in the industry. I will not allow the concept of mud trails to remain and the violence it creates, and I will hold accountable those who put me under suspicion.
I want you to know that from now on, I will fight all kinds of slanderers through the law.
Enough is enough!"