Many actors, who have met millions thanks to their TV series, do not fall off the agenda of social media with both the characters they play and their TV series!
Adba.tv is one of the platforms that makes these researches. She listed the most talked-about female actors in the process, which was published lastly and covering the dates of 06-12 December. Considering the number of messages received, Sıla Türkoğlu, who has been at the top of the list in recent weeks!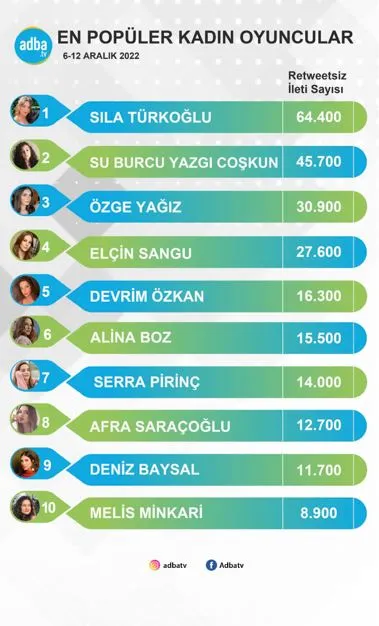 Sıla Türkoğlu does not leave the top of the last week to anyone with 64 thousand 400 messages! After being recognized in the daily series Emanet and Yemin, the actress, who reached millions with the character of Doğa she played in the Kızılcık Şerbeti (Cranberry Sherbet) series, is also on the agenda of social media with the intense interest of her foreign fans!
Su Burcu Yazgı Coşkun, who won acclaim for her character Asiye in the TV series Kardeşlerim (My Brothers and Sisters), was a long time popular leader.
However, with the start of Sıla Türkoğlu's TV series, Coşkun fell to the 4th place in the list! Su Burcu Yazgı Coşkun, who has recovered the situation for a few weeks, has been in the 2nd place for two weeks. It is seen that Coşkun has increased the popularity again with 30 thousand 900 messages!
Özge Yağız, who follows these two names, is almost the most stable actress! The young actress, who plays in the TV series Baba (Father), maintains her order despite the conflict at the top! The person who entered the painting in a surprising way was Elçin Sangu!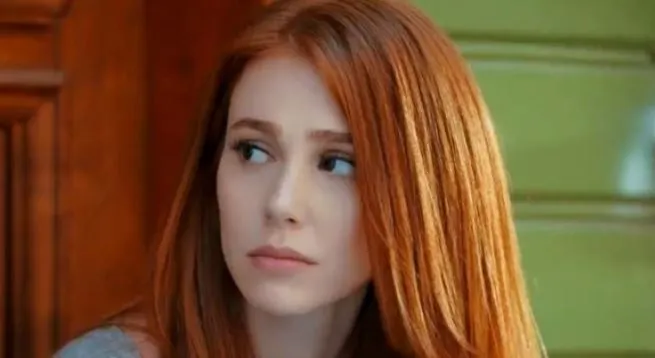 The actress, who started playing the character of Peri in the Çöp Adam (Stickman) series, whose 3rd episode was published this week, moved to the top of the table with the broadcast of the series!
She is in the 4th place in the last week. It will not be a surprise that Elçin Sangu, who is among the popular names with 27 thousand 600 messages, is getting higher and higher! Because the fans of the actress have been waiting to see her on the screen for a long time!