Sinem Ünsal, who has been on the sets since 2017, gained great popularity with the character of Nazlı in the Mucize Doktor (Miracle Doctor) series. Although she had previously acted in the TV series Siyah Beyaz Aşk and Kızım, the Mucize Doktor series was a great career breakthrough for the beautiful actress.
Sinem Ünsal, who played the leading role in this successful project for 2 seasons, later took part in two TV series projects named Elbet Bir Gün and Gizli Saklı. It is considered a misfortune for Sinem Ünsal that both series did not receive the expected attention and were deleted from the screen in a short time.
The actress, who has recently preferred to take part in the theater stage instead of serials, continues to show her talents to her fans on the stage with the play called Aydınlık Evler.
The famous actress experienced the happiness of receiving awards from university students thanks to this game. Ünsal said, "It is a great pleasure for our young people, who are our future, to be appreciated. We are very happy, it has been a great source of motivation for our work to be seen and appreciated."
Sinem Ünsal is very pleased to be on the theater stage. It gives Sinem Ünsal great pride to share the same stage with the famous actress in the play that made Demet Akbağ take the stage after many years.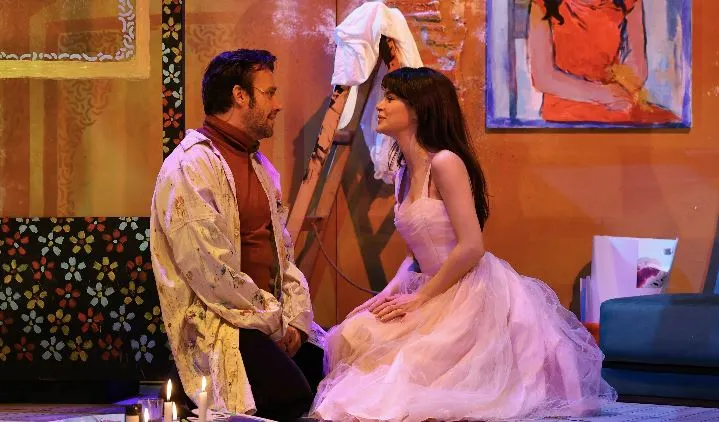 The actress said, "I am happy to be on the same stage with Demet Akbağ. The thing that impressed me most about the game is that it is a very true story. I think we reflect this as very real," she said.
Stating that they showed the sociological life of Ankara, the actress said that the story set in the 1970s was also very realistic to the audience. Sinem Ünsal told that she felt as if she was living in that period while taking part in the play and that she experienced very different emotions on the stage.
Mentioning that the audience watched the play with this sense of realism, the actor expressed that he was pleased that their efforts on the stage were rewarded.
Sinem Ünsal, who is a partner with Salih Bademci, said that they worked hard for the game and that the team helped her a lot and that she was involved in a project that she took part in.
Sinem Ünsal, who is expected to take part in new projects, will soon give good news to her fans with her new project, although she does not want to say anything clear.
The actress did not give any details, but she is preparing to meet her fans with a brand new project in 2023.