Young and successful actors Hafsanur Sancaktutan and Deniz Can Aktaş have been making a name for themselves for a long time, both for their successful performances in the projects they took part in and the love they lived.
Hafsanur Sancaktutan, one of the young lovers who live their relationship away from the eyes and share photos together on their social media accounts from time to time, made striking statements about her relationship in an interview with Hakan Gence from Hürriyet Newspaper.
Hakan Gence, "You are stranded on an island, you have the chance to take only one person with you, who would you choose?" The beautiful actress who answered the question, "Deniz Can", explained her love with these words; "The more I got to know Deniz Can, the better I began to see his essence and inner life. My love for him is increasing day by day. We never push each other's lines. We live in a relationship that always pushes each other higher towards life and our profession. It's my dream safe space for me."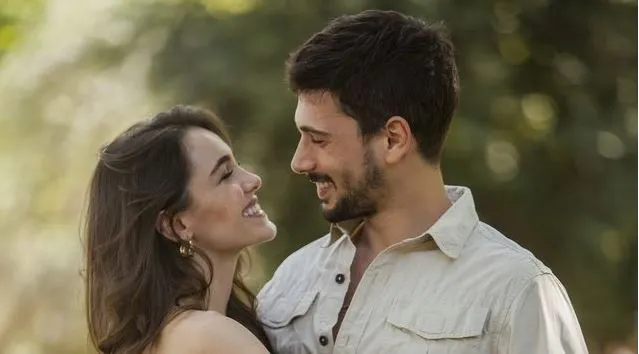 Expressing that the fact that they are both actors makes their lives easier; "It's nice that we're colleagues because you're with a person who will understand you. When you come from the set, when you are tired, he understands the workload very well and can put you at ease. You talk about everything," she said.
The two actors, who met on the set of the TV series Aşk Ağlatır, had to restrain their feelings for each other at that time. Hafsanur Sancaktutan describes those days with these words; "When you fall in love, the flowing water does not stop because you are doing a job. We met on the set. Your love shouldn't get in the way of your work. Yes, we hid it for a while because we wanted our relationship to be more controlled and long-lasting, but it was not like a denial. Deniz Can and I both preferred this. After we met on the set, we started to like each other, but we were silent for a while.
I was more brave than him, but he was also very patient. I was very impressed with him, of course I wanted him to like me. He actually felt the same as me. We even talked to an acquaintance of him recently, and he said at that time, 'I think I can't do it, I'm very impressed, I love it very much'. He also restrained himself. He never told me that."
Stating that she could never tolerate machismo in men, Hafsanur Sancaktutan admitted that she paid attention to the teeth and fingers of the opposite sex on the first date.