The second season of the Kasaba Doktoru (Town Doctor) series starts on Friday, September 2nd. The crew of the series came together in Istanbul and the shooting started last week. Ozan Akbaba, Deniz Can Aktaş, Hazal Subaşı and Vildan Atasever are eagerly awaited what will happen in the new episode of the series.
Various posts are made on the social media account of the series that will make the audience curious, and it is aimed to increase the excitement of the audience with these messages. The post about Deniz Can Aktaş from the Instagram account of the Kasaba Doktoru series also attracted attention.
"If you wanted to give Ömer a suggestion, what would you say?" The audience made different comments on the question. Many people also asked about his love with Leyla.
Deniz Can Aktaş responded to this message when we, the audience, commented, "Let them wear a ring with Leyla."
The actor, whom we watched successfully in the character of Ömer, wrote in his reply to this message: "Be patient for 1-2 episodes, we have a dream."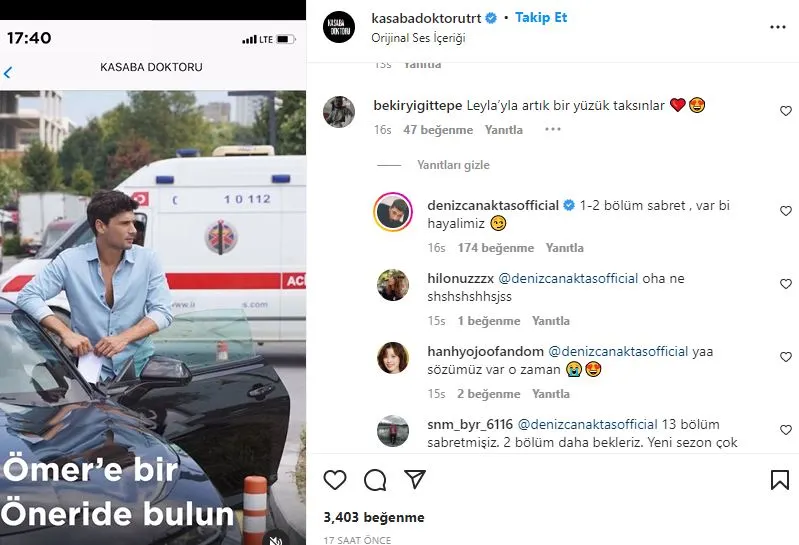 The fans of the Kasaba Doktoru series also noticed this message from the famous actor, and it was revealed that there would be an important surprise between Leyla and Ömer at the beginning of the second season.
While the actor gave spoilers for the next few episodes, viewers were also expecting an imminent cut or engagement.
The fans of the Kasaba Doktoru series responded to this message by saying, "We are impatiently waiting for those scenes."
It was thus revealed that a surprise development would occur between Leyla and Ömer after a few episodes in the Kasaba Doktoru series.
It is expected that the new season of the series, which will start on Friday, September 2, will attract more attention and receive better ratings than the first season.