Demet Özdemir has left behind a season in which she returned to the screens with the exciting TV series "Adım Farah" (My Name is Farah), which her fans were eagerly waiting for. Özdemir, who took a rest after making the season finale in the 14th episode of the series "Adım Farah", in which she shared the lead role with Engin Akyürek, is one of the names that never falls on the agenda of social media.
Özdemir, who climbed to the top of the list of the most talked about names on social media in 2023, especially with the character of Farah she played, once again gave her millions of fans exciting moments. The first season of the 14-episode "Adım Farah" series provided different emotions. Although Demet Özdemir was criticized for the first one or two episodes, she found strong support in the social media environment in the next phase of the "Adım Farah" series.
The actress, who is highly appreciated by her fans both at home and abroad for her role in the series "Adım Farah", once again crowned her success as the most popular female actress of the last week on social media.
In the weekly evaluation made by Adba TV, we see that Su Burcu Yazgı Coşkun, who was at the top of this list for a long time, remained in the third place, and Afra Saraçoğlu, who had a great break with the TV series "The Yalı Çapkını," was in the second place.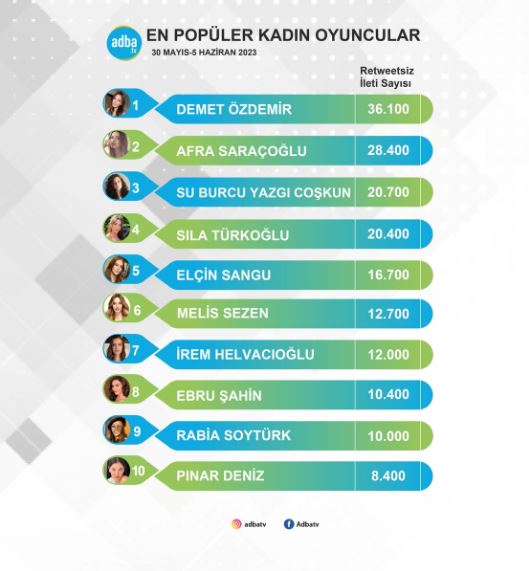 Demet Özdemir, on the other hand, has achieved the summit well ahead of her closest rival, Afra Saraçoğlu. There was a great rivalry on social media between the series "Adım Farah" and the Yalı Çapkını.
In the most popular TV series, Adım Farah came in second and Yalı Çapkını made a huge difference.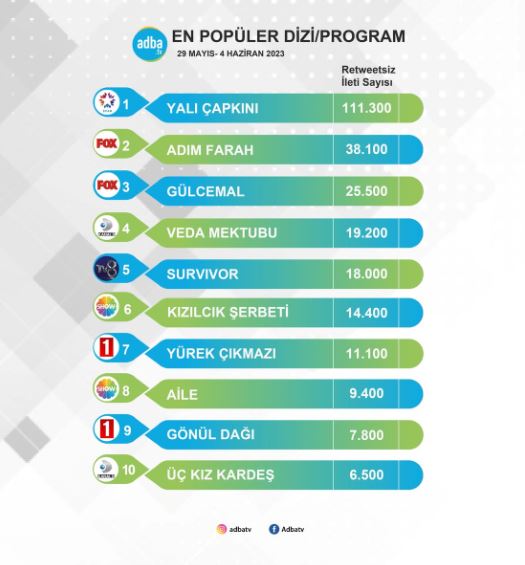 In addition, Mert Ramazan Demir took the top spot in the "most popular male actors" list, surpassing his closest rival Engin Akyürek.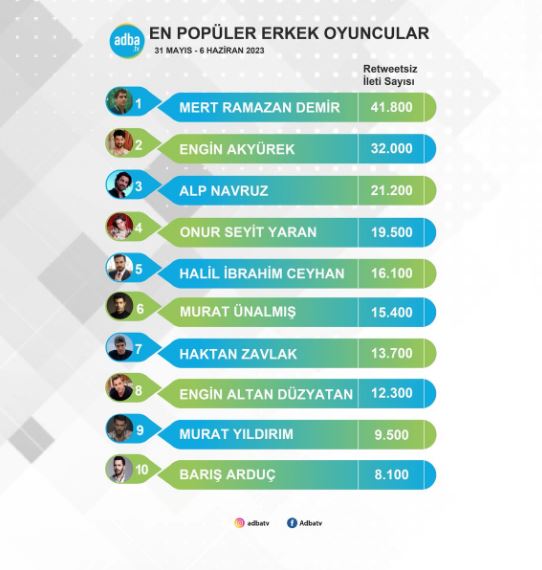 The list, in which Adım Farah is the only leader, draws attention as the "most popular female actors" list. Demet Özdemir was talked about much more than Afra Saraçoğlu, the successful lead actress of the TV series The Yalı Çapkını, in the social media environment with the influence of her personal success, and she once again attracted attention by carrying her series to the first place in the week of 30 May and 5 June.
The series "Adım Farah" made the season finale with its 14th episode last week, and it is expected to stay on the screen for at least 26 more episodes with new episodes in September.
On the other hand, the Kingfisher series will take a season break with its 36th episode on Friday, June 9, and this exciting adventure will continue from where it left off in September.