Halil İbrahim Ceyhan, who won a great success with the daily series Emanet (Legacy) on Kanal 7 screen, became one of the young names that social media talked the most.
Halil İbrahim Ceyhan, who had a very successful partnership with Sıla Türkoğlu in the first two seasons, continued the project in the third season, despite the departure of his partner.
It is very curious how Halil İbrahim Ceyhan will progress in his career, whose fans are increasing every month and Turkish series fans abroad are also watching closely.
Many TV series fans draw attention on social media with comments stating that they would like to see the famous actor in brand new projects in the new season. His fans express their wishes by saying, "He will get in very good projects and works that make a lot of noise, as he deserves."
In terms of producers, the young actor can be seen as a new source of ratings. There is also information that various offers have been made to Halil İbrahim Ceyhan. However, there is no information yet about what kind of career process the actor will carry out from now on.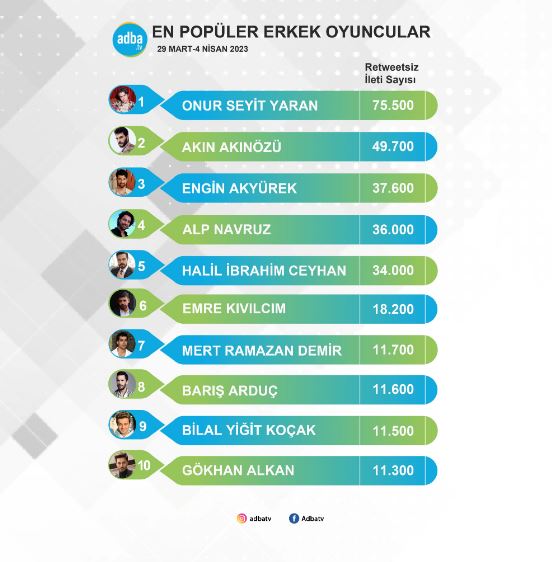 It was a unique opportunity for Sıla Türkoğlu's career to leave the daily series Emanet and join one of the most talked about series of today, Kızılcık Şerbeti (Cranberry Sherbet) as the female lead. Showing a very brave and determined attitude, Türkoğlu even took the risk of going to court with the producer, but in the end, she made a huge gain for her career.
Let's see if Halil İbrahim Ceyhan can share a similar fate with his ex-partner, whom he has been in front of the camera for two seasons. Fans are looking forward to it, but there is no information about what the actor will do yet. However, research has proven that the famous actor on social media is one of the most talked about and commented on actors.
In the research conducted by Adba TV on Twitter between March 29 and April 4, the young actor ranked fifth in the list of the most popular actors with 34 thousand messages.