The shooting of the second of Aşk Taktikleri (Love Tactics), which achieved great success during its release on Netflix, had begun a while ago. The set of Love Tactics 2, which was shot very quickly, is about to come to an end.
The movie Love Tactics, starring Demet Özdemir and Şükrü Özyıldız, had great success when it was released and attracted attention all over the world. Rumors were circulating that the second film would be shot, but no official statement was made.
Finally, about a month ago, the news came that they were going on the set for the second of Love Tactics. Filming continues at full speed. It is stated that the shootings in Istanbul will end on August 22. Therefore, the countdown for the release of Love Tactics 2 will begin very soon.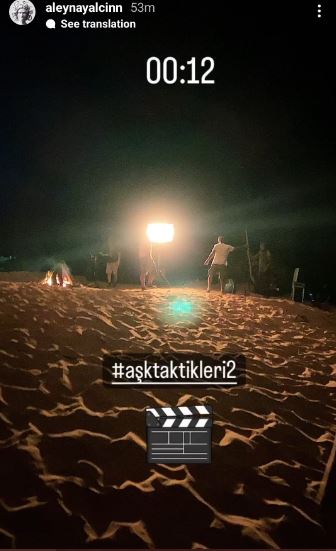 Love Tactics was a huge success as soon as it was released on February 11. With the sharing of the film, hundreds of thousands of people showed interest in the film in a short time, albeit in different countries. Love Tactics became one of the top 10 most watched programs in 60 countries where Netflix was broadcast in a few days.
It was reflected in the figures that the movie Love Tactics was the most watched content on Netflix. Love Tactics, watched for 16 million 860 thousand hours between February 14 and February 20, rose to number one on Netflix.
Demet Özdemir went on the set for Love Tactics 2 as soon as the shooting of the series Dünyayla Benim Aramda (Between the World and Me), which she shot for Disney Plus, was finished. Demet Özdemir, who has been working non-stop this summer, will marry her boyfriend Oğuzhan Koç on August 26.