Yalı Çapkını (The Kingfisher) series has won first place for Star TV after many years with its successful ratings, and the actors are rising to the top of the popularity list step by step with their performances.
Do you know that Afra Saraçoğlu, who gave a very successful performance with the character of Seyran in the TV series The Yalı Çapkını, made a splash in the IMDb ranking, which is the knowledge base of the actors? Afra Saraçoğlu made her name among the top 10 names in the most popular Turkish actors list.
Thanks to the series, Afra Saraçoğlu experienced a rapid rise and became the eighth. Thanks to this exit, the names left behind by the actors also draw attention. Afra Saraçoğlu, who managed to get ahead of her rivals such as Hande Erçel, Ayça Ayşin Turan, Hazar Ergüçlü, Pınar Deniz and Demet Özdemir, made her star shine.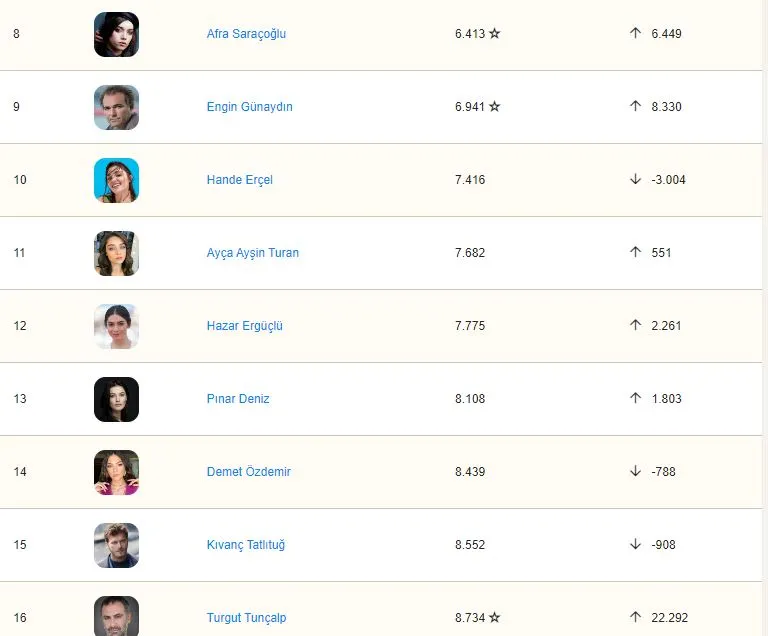 One of the surprises of the season was that the Yalı Çapkını series started to achieve double-digit ratings.
The partnership of Mert Ramazan Demir and Afra Saraçoğlu, which started in the TV series Öğretmen (Teacher), made a great contribution to the new series. The strong harmony and energies of the two young actors have a great impact on the success of the series.
In addition, we see that Gülçin Santırcıoğlu, who appeared with the character of İfakat in the series and came to the fore with the Netflix series Andropoz, also made a strong debut in the IMDb ranking and came in sixth place.
Esra Bilgiç, Cansu Dere and Can Yaman are at the top of the list.