Kanal D's new series Bir Derdim Var (I Have a Problem) , produced by AyNA Yapım, will appear before the audience on November 9 (tonight). The series, which is prepared to bring the problems of young people to the screen in a different language, will be talked about a lot with its characters as well as its story. Here are the characters of the series and important details about these characters:
Nilüfer Toska (Birce Akalay)
Nilüfer, who works as a psychiatrist at the Ergen psychiatry clinic, is an extraordinary doctor who is successful in her profession, intelligent and has strong intuition. Young people who are not understood, ignored, pushed aside are its soft underbelly. Because she sees a piece of herself in each of them and wants to extend her hand, just like the hand that was extended to her in the past. According to Nilüfer, behind every behavior there are important problems that need to be solved. It never stops until it finds the solution. She often breaks the rules just to follow the slightest clue she catches. Even though all these behaviors cause her problems in the hospital where she works, he always does what she wants.
However, not everyone thinks like her. When she meets prosecutor Ömer, who defends the exact opposite of what she believes, she loses her balance for the first time. The most difficult yet exciting times begin for Nilüfer, who runs away from people and especially love with her dark side and secrets from her past that no one knows about.
Ömer Atakan (Mert Fırat)
He is a prosecutor who is successful in his profession, does his job passionately and adheres to the law to the letter. He specifically chose to become a prosecutor. The trauma from his past has made him a hardened person. For this reason, he does not look at anyone's eyes. For Ömer, crime is crime. Ömer, who does not involve his emotions in his work, will have to re-question what he knows when his path crosses with Nilüfer one day. Nilüfer, on the one hand, will make her confront her past, and on the other hand, will bring her to the brink of an inextricable love.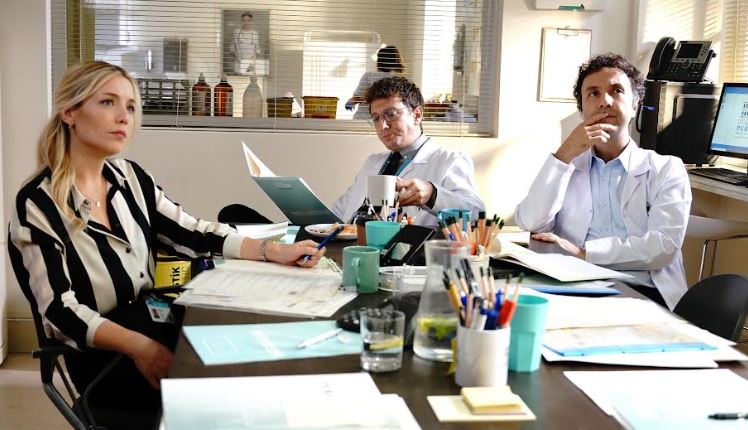 İpek (İdil Sivritepe)
Even though the conditions are not enough for her to read, she; She is a young psychologist who has overcome all difficulties to pursue her dream job. İpek, who greatly admires her teacher Nilüfer, who has a practical intelligence and a different perspective, takes her as an example. Her calm and harmonious nature, combined with her belief that she can heal everyone, will inevitably lead her to experience the breaking point of her life.
Yusuf (Erdem Şenocak)
Despite the society's leading family and its enormous wealth, he rejects everything. Yusuf, who is still under the influence of major family traumas dating back generations, believes in originary psychiatry and that's why he becomes a psychiatrist. He is Nilüfer's only friend who knows her secret in this life, and he is also his doctor, even though no one else knows. Yusuf, one of the popular names of the clinic with his professional knowledge, stance and honesty, is secretly in love with İpek. Waiting for the right time to confess his love, Yusuf will realize that time is against him and will even risk losing Ipek to protect his from the danger he is in.
Savaş (Engin Hepileri)
Savaş, who works as a psychiatrist in the clinic, easily fascinates women with his devil feather. Even though he is hungry for long relationships, he prefers short ones. Even though he lives a life of 'where there is evening, there is morning', his love for his profession comes before everything else. He sees Nilüfer as his rival. While Nilüfer acts with her emotions and intuition, Savaş, on the contrary, approaches events more scientifically. He cannot accept that she is right in almost every matter in which he is stubborn with her, and he secretly harbors feelings of jealousy towards her. Because for Savaş, success comes first. This is because he grew up with a narcissistic father who bragged about his achievements. He subconsciously has a goal to prove himself against his father, who tries to crush him at every opportunity he gets. And the only obstacle in front of him is the clinic's chief, Nilüfer.
Damla (Neslihan Arslan)
Damla, the head physician of the hospital, is a woman who likes to make her name known often and whose motivation in life is power and money. Her weakness for beauty always pushes her to look well-groomed, and there is nothing he can't do for this purpose. She enjoys being praised and receiving attention. Because she wants to be the one to have the last word, she often comes face to face with Nilüfer because of her independent, rule-breaking ways.