Famous actress Hazal Kaya and her husband Ali Atay have been waiting for their second baby, their daughter Leyla, for a long time. Kahramanmaraş earthquakes, which coincided with the last days of this waiting, gave the famous couple completely different feelings.
On Monday, February 6, with the earthquakes that occurred in Kahramanmaraş every 9 hours, a major disaster occurred in 10 provinces. Nearly 14 million people were affected by it. Even though it was the last days of her pregnancy, Hazal Kaya did not neglect to participate in charity activities.
The earthquake disaster, which killed thousands of people, caused great pain. The presence of thousands of injured people and millions of people who were in need of all kinds of help on the street in winter conditions burned everyone's hearts.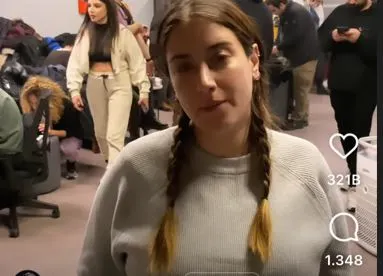 Hazal Kaya also worked to help earthquake victims with Oğuzhan Uğur's Babala TV structuring, which had great success on youtube.
Hazal Kaya, who works at the aid center to help people even on a day when she is pregnant with her second child and counting the days for the birth, said, "We are facing the disaster of the century. Your help is very important, we expect your support to AHBAP. We are working here with my father on TV," she asked for support from everyone.
The famous actress, who gave birth to her daughter Leyla Süreyya on Saturday, February 11, is sure that she has mixed feelings. On the one hand, there are thousands of people lost in the earthquake and millions of people who are experiencing difficulties. On the one hand, the state of joy at the birth of a tiny baby…
Hazal Kaya, who is also from Gaziantep, both felt the pain of the earthquake and experienced great joy by giving birth to her daughter Leyla in such an environment.
The famous actress, who also has a son named Fikret Ali, will now enter into a great struggle to raise her daughter Leyla Süreyya.