Çöp Adam (The Stickman) series, which is broadcast on Star TV on Wednesday evenings, met with the audience again with its 11th episode after a 2-week break.
The Çöp Adam series, starring Engin Altan Düzyatan and Elçin Sangu, is known as one of the best productions of the last period.
Despite the fact that the Çöp Adam series achieved good results in the ratings, it seems to be a thought-provoking situation that the full episodes on youtube have lower than expected viewing rates.
The Çöp Adam series, which attracted a lot of attention in the first episode, reached about 5 million views and attracted a lot of attention on youtube. Then it came to the 11th episode with 3 million and then less than 2 million views.
The decrease in the interest shown in the Çöp Adam TV series on Youtube is considered an important data especially for young people.
Young TV series fans, who usually do not want to watch TV series, prefer to watch full episodes on youtube in their own time.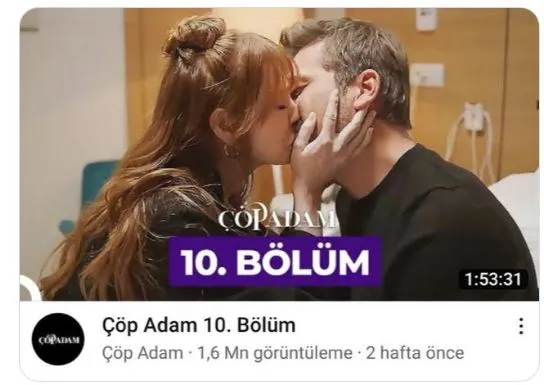 That's why youtube offers important data to measure the interest of young people in TV series.
For example, each episode of Star TV's TV series Yalı Çapkını (Golden Boy), which made a huge debut, gets 10 million or more views on YouTube. This shows the enormous interest of young people.
However, it was expected that a series like Çöp Adam, which was very ambitious and had good results in the ratings, would attract more people on YouTube.
The 12th new episode of the Çöp Adam series will be screened on Wednesday, March 1, and the first trailer has also been shared.