Buçe Buse Kahraman, who plays the character of Pelin in the Yalı Çapkını (Golden Boy) TV series, witnesses one of the bad sides of social media at a young age.
The actress, who plays an important role in this powerful story with the character of Pelin, is the subject of heavy comments from the audience on social media. Not only to the character of Pelin in the story, but also to the actor himself, there are reactions from the audience with harsh words.
Buçe Buse Kahraman is experiencing a similar lynching campaign that Ezgi Şenler experienced during the Çatı Katı Aşk series. Şenler reacted to this situation on her twitter account and said, "Really, make up your mind! It's a shame, it's a sin. I wish you would put your mind to other things that you would like to put on the series. The character is just that. The girl is playing what is written, you know! Character! I am so angry today!" had shared.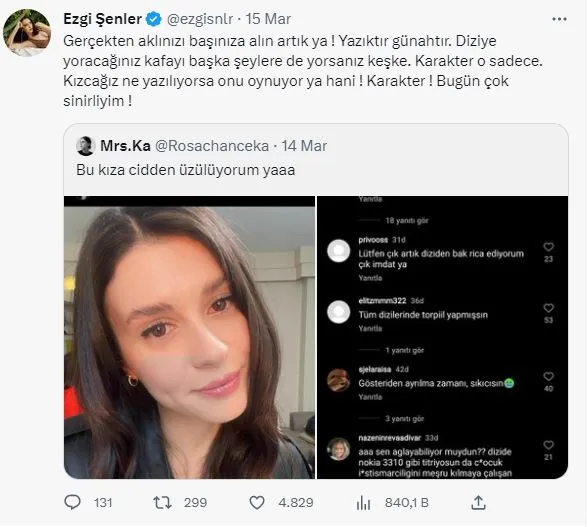 Although Buçe Buse Kahraman says that she portrays the scenario as it sounds and that she is not very impressed by the reactions, her manager Cem Tatlıtuğ has the idea that it is a reputation assassination.
Cem Tatlıtuğ's statement that the actress was accused of "mistress" and that he was assassinated was as follows:
"For the first time, I feel the need to make a statement regarding the long-standing smear and lynching campaign against our esteemed actress Buçe Buse Kahraman. The actress who is tried to be lynched is a young woman "just trying to play the scenario given to her in the best way possible"…
Do those who try to lynch know that Buçe Buse Kahraman is a graduate of Izmir Dokuz Eylul University, Faculty of Fine Arts, Department of Acting? I won't go back too far, do they know what the previous series she was in?
However, I want it to be known that from now on, we will fight all kinds of legal battles against those who make it seem like "mistress!" and use ugly expressions like "torpedo."