Ayça Ayşin Turan, one of the most beloved actresses of the Turkish TV series, has been away from the sets since the end of the Ada Masalı (Island Tale) series. While the fans were waiting to see the beautiful actress in a new series, Ayça Ayşin Turan gave the good news of a movie.
Ayça Ayşin Turan, who took firm steps in her career with the serials Meryem, Zemheri and Arıza, in which she starred in succession, took a big step in her career with the Ada Masalı series, which appeared on Star TV last summer. She had set sail for a new love affair with her co-star Alp Navruz.
The Ada Masalı attracted great attention not only in Turkey but also abroad. Ada Masalı, one of the series that left its mark on last summer, made its final in December 2021 after broadcasting 25 episodes. Ayça Ayşin Turan, who has a place in everyone's heart with the character of June she played in the series, did not take part in another project after the end of the series.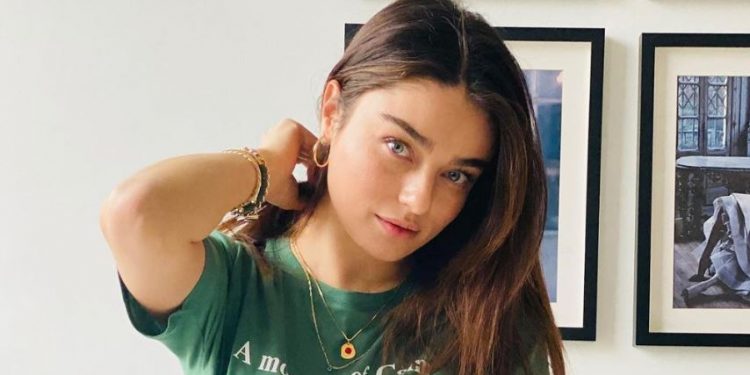 Ayça Ayşin Turan's name was commemorated with the movie O Gelin Benim (That Bride Is Mine), which will be shot for Disney Plus two months ago. According to the news, Turan's partner in the movie would be Serkan Çayoğlu. However, after a while, it was learned that the project was canceled.
It was recently claimed that the beautiful actress will share the lead role in a movie with Murat Boz. Ayça Ayşin Turan, who attended the event organized by Hürriyet newspaper last night, confirmed this claim. Answering the questions of the journalists, Turan said, "We are fine, we are preparing a movie. We cannot give details. Let's see, hopefully we will have a little surprise. Partner's surprise is almost here, you'll find out anyway," she said.
Therefore, Ayça Ayşin Turan did not make a statement about her claim that she would share the lead role with Murat Boz while confirming her new film project. In a recent claim, it was claimed that Ayça Ayşin Turan and Murat Boz would share the lead roles in the movie, which will be released on a digital platform. Now everyone is wondering who will be her partner in the new movie of the beautiful actress.