Engin Akyürek, who took the leading role in the latest series Kaçış (Escape) for Disney Plus, had the experience of transforming his own story into a project. The famous actor is on the agenda with the TV series "Adım Farah" (My name is Farah) prepared for Fox TV, after the Escape series, which has attracted great attention in many countries of the world.
Sefirin Kızı, the first episode of which was broadcast on June 16, 2019, lasted 2 seasons and 52 episodes remained on the screen. Engin Akyürek first became a partner with Neslihan Atagül and recently with Tuba Büyüküstün. After the series Sefirin Kızı, Engin Akyürek fans were looking forward to seeing the famous actor in the television series again.
This wait is over. It was announced that the first episode of the series "Adım Farah" will be published on Wednesday, March 1 from the social media accounts.
Engin Akyürek fans, who will be partnering with Demet Özdemir, started to celebrate the famous actor's return to the screen.
Engin Akyürek fans, who are strongly organized on social media, showed the excitement of the "Adım Farah" series with thousands of shares.
You can see many posts on social media such as "The amazing actor Engin Akyürek is coming back".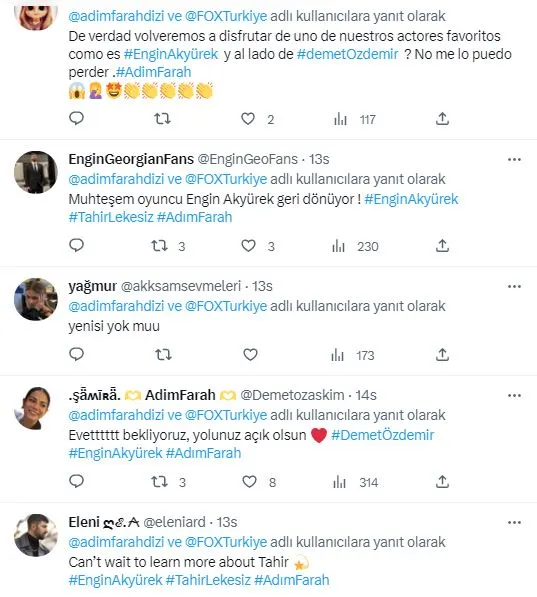 Not only Turkish fans, but also foreign fans of the famous actor participate in this wonderful celebration atmosphere with the messages they share in their own language.
The actor, who will play the mafia leader named Tahir Lekesiz in the new project, will have another experience in his career.
The fans, who stated that they are looking forward to the series, show their excitement by sharing, "I can't wait to see you on the screen."
#AdımFarah ilk bölümüyle 1 Mart Çarşamba 20.00'de FOX'ta. @FOXTurkiye pic.twitter.com/YqcKxw05zI

— Adım Farah (@adimfarahdizi) February 20, 2023