Famous actress Hande Doğandemir became one of the actors who made great efforts to heal the wounds after the earthquake disaster that took place with a 9-hour interval on February 6th.
The actress, who made an effort to spread the help requests from the region through her social media account, also helped the earthquake victims in various ways.
In the same period, the actress rebelled over different issues that were experienced on social media and that people did not understand.
Hande Doğandemir, who has been critical of many issues, especially complained about trying to create an environment of perception as if nothing had happened after this great disaster.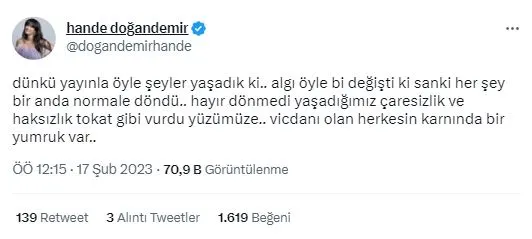 The famous actress said, "Perception has changed so much that everything has suddenly returned to normal.
The actress, who received a lot of support from her fans in this process, also shared frequently that the people in the region needed tents.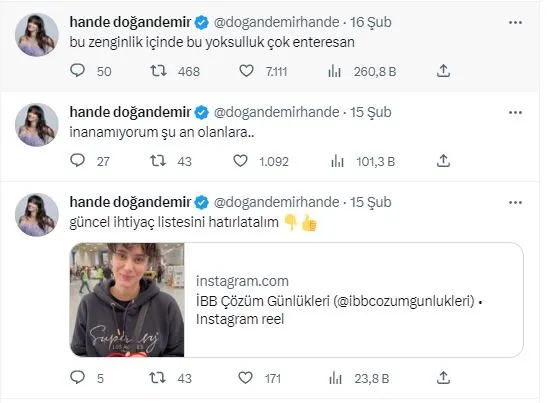 The actress, who participated in the İhtiyaç Haritası (Needs Map) and the aid activities of the Istanbul Metropolitan Municipality, also shared, "I can't believe what is happening right now, this poverty in this wealth is very interesting."
The famous actress, who appeared on the screen with the short-lived Hayat Bugün (Life Today) series, which was broadcast on the Fox TV screen, is dedicated to providing support to those in need after the earthquake disaster.
 

Bu gönderiyi Instagram'da gör