After the overseas sales of the Yargı (Judgment) series, which started to be broadcast last season, information about the series began to come from different countries. First, the series attracted attention with the shooting of the Greek version. The Yargı series, which affects large audiences in Turkey and is one of the most popular productions of Kanal D with its second season, is on the agenda this time with its success in Spain.
Yargı, starring Kaan Urgancıoğlu and Pınar Deniz, continues to lock the audience on the screen with its murder story like a riddle in its new season. Sema Ergenekon, who wrote the script with her strong pen, is one of the biggest contributors to the success of the series. The Yargı series, directed by Ali Bilgin and signed by Ay Yapım, comes to the fore with new news abroad.
The first episode of the series started to be broadcast on Spain's famous Antena3 channel recently. The Yargı series, published under the name 'Secretos De Familia', managed to be the first in the ratings with 2 million views in the first episode!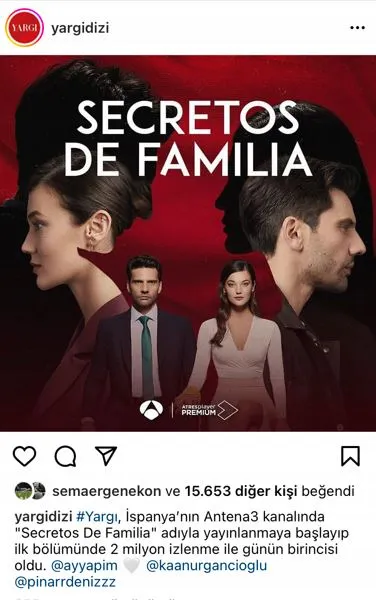 Yargı, which is followed with great interest by the masses in Turkey and admired for its scenario that compels the predictions as well as its acting, has become the pride of Turkey with these news from abroad…
This beautiful pride table was also shared from the official social media accounts of the Yargı series. This information, along with the Spanish poster of the series, brought great joy to the audience of the series.
The Yargı series, which continues to attract the attention of the audience with its story that does not reduce the action in every episode, developments beyond expectations and surprising results, is a project on which Ay Yapım, together with Kanal D, also cares. We will probably continue to receive many similar news from the Yargı series, which will begin to be broadcast in more and more countries…