In the TV series Ömer, which is broadcast on Star TV on Monday evenings, it has once again been revealed how important the existence of a scenario that makes the audience believe in love. The loyal viewers of the series, who embrace the love of Ömer and Gamze, share their support for this love on social media.
In today's social world, it is not acceptable for a divorced woman with a child to marry a younger man than her. It is known that this situation will cause great distress, especially for families. Of course, the attractiveness of people who do not care about what their surroundings say and live their own lives has once again shown itself in the TV series Ömer.
Fans of the series, who believe in the love of Gamze and Ömer, say that they want to see them happy by putting aside their prejudices. Although there are various criticisms of the progress of the script in the comments, you can see that the audience liked the overall story.
Although Gökçe Bahadır and Selahattin Paşalı were initially a dubious duo about how they would become a TV series couple, they now have the support of a very large fan base behind them. You can find many comments about it on social media.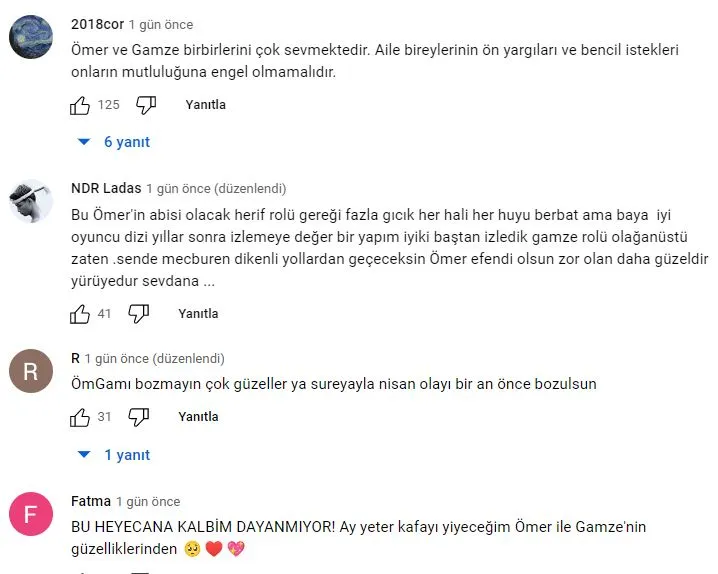 After the first 5-episode successful performance of the Ömer series, the audience, wondering what will happen in the new episodes, is very pleased with the harmony of the two leading actors of the series. Simay Barlas, who joined the series with the character of Süreyya, has become a prominent name recently.
There are many questions such as how the relationship between Ömer and Sümeyye will progress, what will happen to Gamze, and the screenwriters hold a very important story power at this point.
Despite his young age, Selahattin Paşalı's successful performances in many different roles so far is seen as proof of how much the actor has developed himself in a short time.
Gökçe Bahadır, on the other hand, feels the support of a wide audience on social media with her talents and beauty, as always.
If the screenwriters of the TV series Ömer do not make serious mistakes, you can observe that the project is a long-term job, and the support of the women, who have great difficulties in the story, deeply affects the audience.