Fırat Celik went into our lives with the character of 'Mustafa', which he played in the TV series What's Fatmagul's Crime? years ago. Afterwards, the actor, who appeared in TV series such as Gönül İşleri, Poyraz Karayel and 20 Dakika, took a break from the sets for a while and lived in France.
After a 6-year hiatus, the famous actor returned to the sets with the Blu TV special series Saklı. Acting with Hazar Ergüçlü, Defne Kayalar and Ahmet Rıfat Şungar in Saklı by MAY Productions, the performance of the actor in the series was appreciated.
Journalist and writer Pelin Çini, who watched the series, praised Fırat Çelik in her social media account. Fırat Çelik also shared Pelin Çini's comments about herself with his followers on his own Instagram account.
In Saklı, which tells the forbidden love of two married people through the different perspectives of the characters, going beyond an ordinary betrayal story, Pelin Çini interpreted Fırat Çelik's acting as "annoyingly good".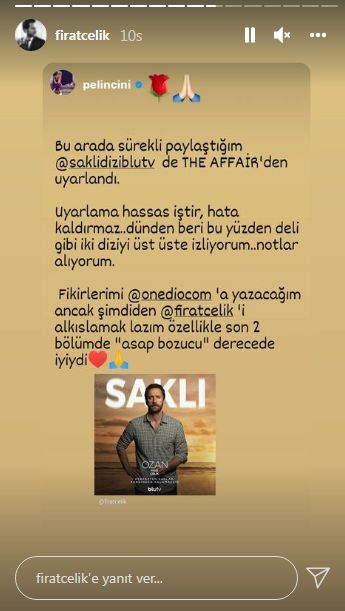 Adapted from the TV series The Affair, which made a lot of noise at the time it was aired and won many awards, Saklı takes the audience far beyond a story of deception by dealing with a passionate forbidden love around a mysterious murder investigation.
Deniz Akçay sits in the director and screenwriter's chair of the series, in which the audience will surrender to the excitement of love by putting themselves in the place of the characters, while Can Teker is the second director and Ahmet Bayer is the cinematographer.