Fırat Celik, who made a name for himself with Fatmagül'ün Suçu ne? series, returned to the screens after six years with the series Saklı, which started to be broadcast on Blu TV. The handsome actor, who lives in Paris and runs a cafe there, returned to Paris, where he lived, after the shooting of the TV series Saklı..
The actor, who also innovated in his image as soon as he went to Paris, attracted attention with his new image. The handsome actor, whom we have always been accustomed to seeing with his wavy hair, almost shaved his head. The actor, who shared his new image on social media, also received full marks from his fans.
The actor recently shared an emotional post on his social media account. Celebrating his mother's birthday in his Instagram post, the handsome actor dropped the note 'Happy birthday to my mother' on his photo with his mother.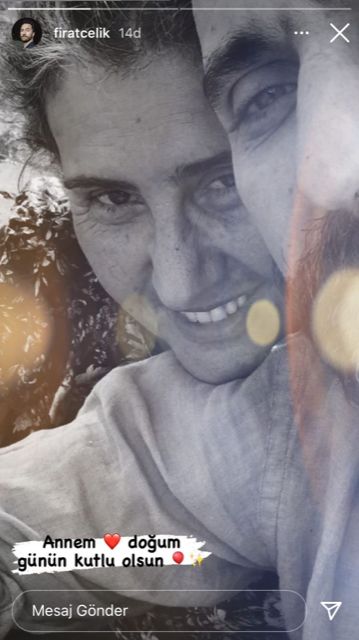 In the photo, the resemblance of the actor to his mother did not go unnoticed. Born in Germany, Fırat Çelik has been living in France for nearly 30 years. The handsome actor, who took part in many theater plays in France, appeared before Turkish audiences for the first time in 2009 with the TV series Kış Masalı. He made his career debut with the character of "Mustafa", which he played in the TV series Fatmagül'ün Suçu Ne, which was shot right after.
Fırat Çelik, who played a role in the series Poyraz Karayel, which was last shot in 2015, lived in France for a while after this series. He came to the fore with the dance videos he shared on his social media account during the pandemic period.
Six years later, the handsome actor appeared in front of his fans with the TV series Saklı. Fırat Çelik shared the lead roles with Hazar Ergüçlü, Defne Kayalar and Ahmet Rıfat Şungar in the series broadcast on BluTV. Fırat Çelik played a family man named Ozan who cheated on his wife in the TV series Saklı, an adaptation of the foreign-made Affairs.