Kerem Alışık, who is the son of Sadri Alışık and Çolpan İlhan, who are shown among the most important artists of Turkey, takes roles in both theater, cinema and TV series as an actor.
Kerem Alışık, who is remembered with very different characters with his successful performances, is also a famous name known for his passion for poetry and his love for humanity at every opportunity.
Kerem Alışık organizes relief activities for our citizens in 10 provinces affected by the earthquake, together with Kahramanmaraş, following the two major earthquake disasters that shook Turkey on Monday, February 6th.
Kerem Alışık did not only offer financial support of 500 thousand TL. The famous actor also uses the Sadri Alışık Cultural Center, where he carries out his theater activities, as a center for collecting aid and delivering it to those in need.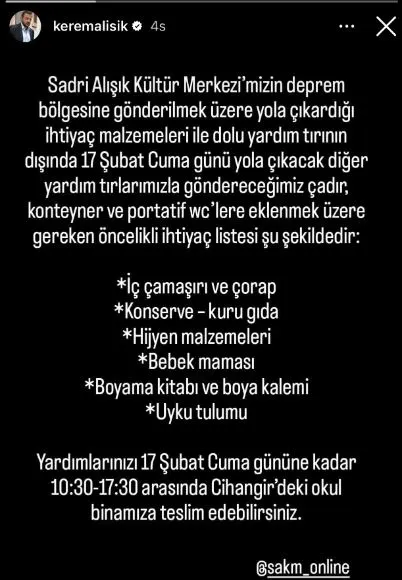 Kerem Alışık, who strives to heal the wounds of the citizens who have been harmed by the earthquake and to meet their needs, displays an attitude that reveals his love for people, as in many events before.
The aid, which started to be collected at the Sadri Alışık Cultural Center right after the earthquake, is sent to the region by trucks.
Kerem Alışık said, "We would like to thank everyone, our trainers, students and the large SAKM family who are in solidarity with us in these difficult days when we share the same soul and heart as a nation."
Kerem Alışık, who took the lead role with Kaan Yıldırım and Özge Gürel in the TV series Sipahi, which made the final last month on the Show TV screen, had previously won the hearts of millions of viewers with the character of Ali Rahmet Fekeli in the TV series Bir Zamanlar Çukurova (Once Upon a Time in Çukurova).
The famous actor came to the fore once again in order to heal the wounds after the earthquake disaster and became one of the names that received applause for his love for people and his contribution to social unity.