The Woman series, which was screened on Fox TV and made the final in February last year, was one of the most popular series on the screens. In the first season it was broadcast, it almost opened a new path besides the male-dominated series on the screen and connected the audience with its story. Özge Özpirinçci was playing a woman, mother of two, in the series, which also attracted attention and appreciation with her acting.
Bahar, who tried to hold on to life with her two children after the disappearance of her husband, was having a very difficult time due to the illness she experienced. The story caught the audience so deeply that it was watched with great interest until the finale.
Caner Cindoruk, Seray Kaya, Bennu Yıldırımlar, Feyyaz Duman, Gökçe Eyüboğlu and Şerif Erol also starred in the series. It was one of the series that got its name on the screen and is still remembered frequently.
From time to time, the actors of the series commemorate Kadın (The Woman) as well as the audience. They make some references with the posts they make on social media, often remind them of the TV series with photos from the scenes or behind the scenes.
Özge Özpirinçci is among these names. The actress takes her followers back to those days with photos from the series she played in the lead role. The actress, who has begun to dig through her archive, shared many different memories, and did not forget the two minor actors from the Woman series.
Kübra Süzgün, who played her daughter Nisan in the series, and Ali Semi Sefil, who played her son Doruk, praised these two actors, who almost enchanted the audience with their acting, despite the younger age of the audience.
Özpirinçci also reminded her that she did not forget these two co-stars with her last post.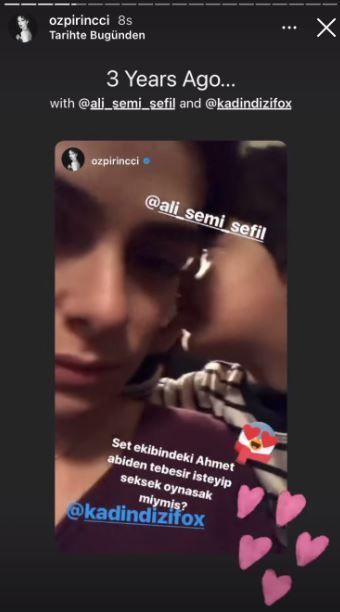 Özpirinçci, who got along very well with two small actors behind the camera of the series, played games and had fun, shared one of these moments.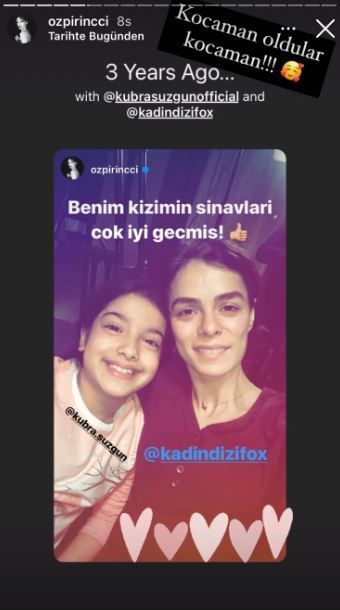 She published those moments on her Instagram account when Ali Semi Sefil leaned over her ear and asked someone on the set to ask for chalk and wanted to play straight.
The actress, who also posted a photo taken with Kübra Süzgün, also dropped the note "They became huge".