Alp Navruz and Ayça Ayşin Turan became partners in the Ada Masalı (Island Tale) series, which was broadcast on Star TV last summer. While this beautiful union was followed with admiration by the fans of the two actors, it was another surprise that they were in love in the future.
After the series' finale, the famous couple, who does not hide their love and lives in front of them, enchants their fans by frequently sharing photos together on social media.
Ayça Ayşin Turan recently shared the photo frame with her lover in the story section of her Instagram account. She did not neglect to share the same photo with her fans in Alp Navruz.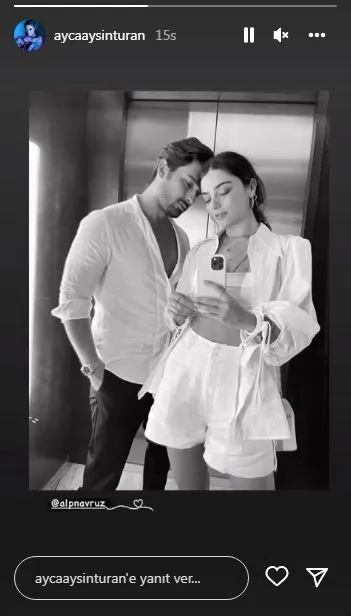 The black and white photo of the couple in the elevator attracted great attention from their fans. The new projects of the young actors as well as their private lives are a matter of curiosity.
After the Ada Masalı, Ayça Ayşin Turan from the couple, both of whom were not involved in a project, came up with the news of a new project a short time ago.
The beautiful actress partnered with actor Ekin Koç in the movie Sen İnandır (You make believe), which was shot for Netflix. The film, signed by Taff Pictures, was shot in Assos.
Alp Navruz, on the other hand, scrutinizes the project selection. The actor, who has made a name for himself with his advertising projects recently, does not have a finalized film or series project on the agenda yet.