Caner Cindoruk was born on April 17, 1980 in Adana. Turkish TV series, cinema, theater actor and writer.
Name: Caner Cindoruk
Date of Birth: April 17, 1980
Place of Birth: Adana
Height: 1.85 m.
Weight: 74 kg
Horoscope: Aries
Eye Color: Light Brown
Hair color is black
Mother: Müşerref Cindoruk
Father: Zafer Cindoruk
Spouse: Almeda Abazi
Child: Efehan Sayışman
Siblings: Münir Can Cindoruk, Taner Cindoruk
Instagram: https://www.instagram.com/canercindoruk/
Pets: He has a cat.
Family: His mother is Müşerref Cindoruk, his father is Zafer Doruk, a two-time Orhan Kemal Story Award-winning short story writer. He has two brothers named Münir Can Cindoruk and Taner Cindoruk. Theater actor in his uncle Erdal Cindoruk. He grew up in a low-economic but warm, cohesive family. "My life was spent on the streets, fighting for life. I was born and raised in a slum in Adana, but I don't think education has a class or economic dimension. In this sense, I consider myself very lucky. Because I am the son of a story writer father. He encouraged me to read when I was just a kid. This affected me very much in the formation of my character. My father was a story writer, but he never made any money from his profession. He used to be a vender. Then he won three or four important awards for his stories. He suddenly caught the attention of the magazine. He became popular as a "vender writer". But he experienced the depressive side of it. He went into preparation for the book. It shut itself down. We were three brothers and the boat had to turn around. As the eldest, I started working during the time out of school. I sold slippers, toys, balloons. I was selling whatever was popular then. "
Childhood years: His childhood years passed backstage. He always found a scene for himself in the plays that were performed in middle school, high school and university years. His first professional role was the character of Yusuf in Fehim Pasha Mansion. In 1997, he played his first professional theater play with Adana Seyhan Municipality Theater Group. He worked as an actor in Seyhan Municipality and Adana City Theaters for ten years.
Education life: He graduated from Çukurova University Business Administration Department.
The turning point of his life: He started theater at a young age with the influence of his uncle who was the General Art Director of Adana City Theater. He joined the City Theater at the age of 17. Due to financial difficulties, the conservatory could not read. "My lessons were very good. When I entered the university entrance exam, I really wanted to study at the conservatory in Ankara. My score was also high. But as I said, I had to study business administration in Çukurova for financial reasons. I continued the theater there from the bottom and put acting in the center of my life. "
First step into acting: He started his television adventure with the "Black Sun" (Kara Güneş) series.
With which project did he shine? He drew attention with the character "Kemal", which he portrayed in the "Lady's Farm" series.
Mindset: He believes that we should not succumb to the dusty wishes of life. He tries not to destroy his conscience and always be a fair Caner in life. "We consider ourselves very valuable as human beings. This is our biggest weakness. Because there is a more precious nature above man. I keep silent in many stages of life. "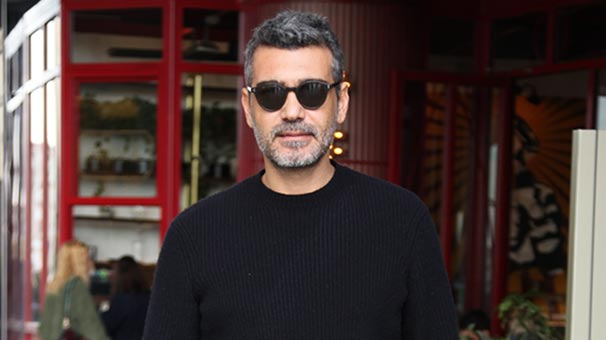 A source of happiness: He loves to chat with the shopkeepers in his neighborhood. Still caressing her mother's face or caressing her hair feels like therapy. "When I feel unhappy, I store energy by looking into a child's eyes or by loving a dog. Happiness is hidden in such small moments. Let's not miss these moments. "
First feature film: Sırrı Süreyya Önder- Muharrem Gülmez / Beynelmilel
Look at love: "Love knows no boundaries. Love is a feeling that comes and goes. You fall in love with someone, you get them, but you actually fall in love with a dream you create in your mind, dreams you dream around him. It is also possible to encounter disappointment. I guess it goes on when it holds chemistry, absolute love. And that initial feeling knows nothing. "
View of life: Trying to act by refreshing the sense of virtue. He has no purpose in his life other than to be called a good actor and a good person. In fact, being remembered as a good person is one step ahead for him.
His view of business life: He thinks that the actors should have a social responsibility and not be independent from the public. He wants to be in the forefront with his acting, not his physique. "We must be able to reflect the society we live in and its problems. As an artist, every problem in the country is our problem, and it is neither the politicians nor anyone else's job to express them. This is the work of the artists. It is good for me to be at the forefront not with my physique but with my acting. I also go on the theater stage. Excess muscle doesn't work for us because I need to be flexible and ready to transform at any moment. For example, when I was selected for ZekiDemirkubuz's movie, he said "I don't want a television actor." I quickly gained weight and turned into a "living" man. "
Career plan: There is an opinion that acting is not a pose hack. He thinks his acting will go back as soon as he stops collecting. That's why it is very important for him to be on stage all the time. "I am a person once against the idea that any actor can play any role. Because there is a system we call cast. For example, in a story, I can be an actor suitable for cast y rather than cast x. If I am y, then x can make a mistake on me. Second, I don't want to play in every role. Why? First of all, the word of the script must be my word. I should be able to match the language of the director. I have to be able to love the character I play. It's not about the good or bad of the character, it's about me internalizing that character. So I have to see in myself that I can do it harder or easier. The character, on the other hand, doesn't have to follow my ideas of course."
TV SERIES
2007 Black Sun (Kara Güneş) / Alişir
2008 / 2009- Leaf Cast / Doctor Nazmi
2008- Late Spring (Geç Gelen Bahar) / Ali
2009 / 2011- Lady's Farm / Kemal
2011 / 2012- Escape / Nadir
2013 Love Under Fire (Ateş Altında Aşk)
2013- Between Us / Civan
2016- Streets of Istanbul (İstanbul Sokakları) / Fırat
2016 / 2017- Magnificent Century: Kösem / Silahtar Mustafa Pasha
2017 Let's Go
2017 / 2019- Woman / Sarp-Alp
2020- Storm / Ertan
2020- Unfaithful
FILMS
2006 Beynelmilel
2008 Geç Gelen Bahar Ali
2009- Kelebek/ Yusuf
2012- Elveda Katya /Veli
2012- Yabancı / Ferhat
2012- Gergedan Mevsimi / Sahel
2014- Çalsın Sazlar / Mahir
2016- Kor/ Cemal
2016- Dar Elbise/ Ako
2016- Ekşi Elmalar/ Servet
2016- Bir Şey Değilim / Polis Kenan
2018- İçerdekiler
THEATER PLAYS
1998 Fehim Paşa Konağı
1999 Kuğular Şarkı Söylemez
2000 Ada
2001 Yalancı Aranıyor
2002 Soyut Padişah
2004 Yeşil Papağan Limited
2005 Suçlular Çağı Suçsuzlar Çağı
2006 Komşu Köyün Delisi
2010 Uçurtmanın Kuyruğu
2011 Titanik Orkestrası
2012 Pandaların Hikâyesi
2016 Köpek, Kadın, Erkek
2018- Torun İstiyorum
2019- Yeni Bir Şarkı
2020- İstanbulname
THEATER PLAYS HE DIRECTED
1999 Kuğular Şarkı Söylemez
2000 Ada
2005 Suçlular Çağı Suçsuzlar Çağı
2006 Hayvan Çiftliği
BOOK
2018- Sessiz Şarkıcı
AWARDS
Sadri Alışık Theater and Cinema Actor Awards / Most Successful Actor of the Year / Kor