According to the research conducted by Adba TV, there are 9 TV series among the 10 most popular weekly programs covering the dates of 15-21 May. As the production with the most messages shared in a 1-week period, the Yalı Çapkını (Golden Boy) series is in the first place and deserves the summit.
The series, whose ratings are also very successful, is going through an exciting process towards the first season finale, and it stands out as one of the best debuts of this season.
After the Kingfisher, the second most popular TV series is Adım Farah (My name is Farah). The ratings of the series, starring Demet Özdemir and Engin Akyürek, were shocked by the ratios that fell below the average.
However, the information that 26 episodes are guaranteed for the series, which is planned to continue in the second season, was reflected in the press. However, this does not change the fact that the series did not meet the expectations in the ratings.
In the research conducted for the most popular TV series and programs on social media, 9 TV series entered the list. Among these productions, Adım Farah in the second place, Gülcemal in the third place, Yürek Çıkmazı (Heart Impasse) in the sixth and Veda Mektubu (Farewell Letter) in the tenth place are below average in the ratings. In other words, although there is a lot of interest in social media for these series, the ratings reveal a different situation.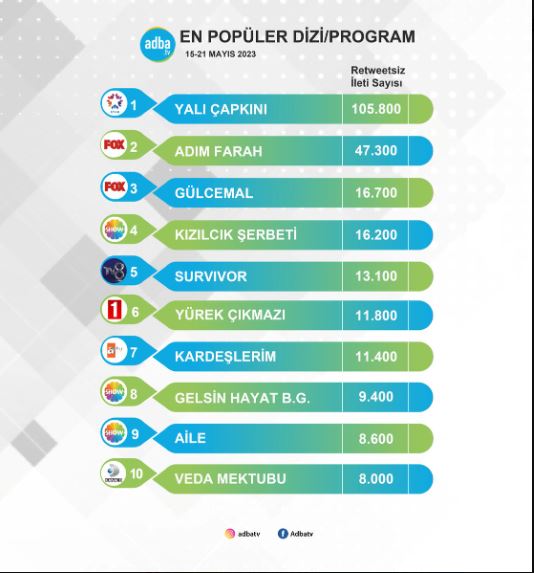 Let us remind you that the series Gelsin Hayat Bildiği Gibi (Com life as it Knows), will make its final on Thursday. Among the 90 most popular TV series on social media, the productions called Yalı Çapkını (Golden Boy), Kızılcık Şerbeti (Cranberry Sherbet), Kardeşlerim (For My Family) and Aile (Family) stand out with very good ratings.
In conclusion, even this research shows that there is no connection between being prominent on social media and getting good results in the ratings.
The fact that the big interactions of the series viewers on social media do not mean anything in terms of the rating results seems to be an issue that needs to be discussed.