Actress Damla Sönmez, who gave life to the character of "Dilruba" in the Aziz series, which met with the audience on Friday evenings on Show TV, said goodbye to the series in the past episodes.
While Murat Yıldızım and Damla Sönmez were in the lead roles in Aziz, the character of "Efnan", played by Simay Barlas, came to the fore. Then Damla Sönmez left the series.
Even Damla Sönmez fans rebelled against this situation. Damla Sönmez left the series, but the actress never broke her bond with her friends in the series.
Continuing her support for the Aziz series, the actress visited the set of the series. Posing with Murat Yıldırım and director Recai Karagöz, the actress shared these moments on her social media account and dropped the note 'The boys'.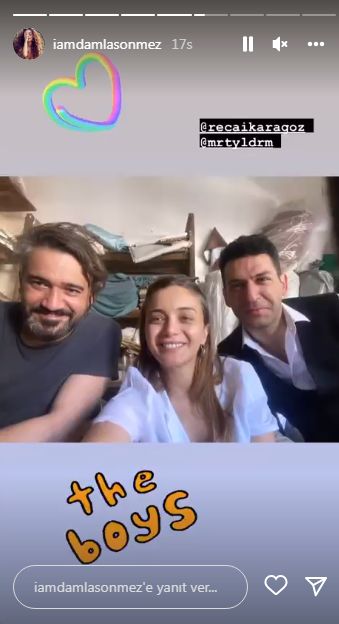 The Aziz series will make the season finale with the episode to be broadcast on Friday, June 3rd. The Aziz series, which created great excitement due to bringing Murat Yıldırım and Damla Sönmez together at the beginning of the season, never made the desired output in the ratings.
Despite being very popular, the fate of the Aziz series, which was at the end of the rope due to the bad ratings, was finally clear. Upon sharing the season finale presentation, it was agreed that Aziz will be with us next season.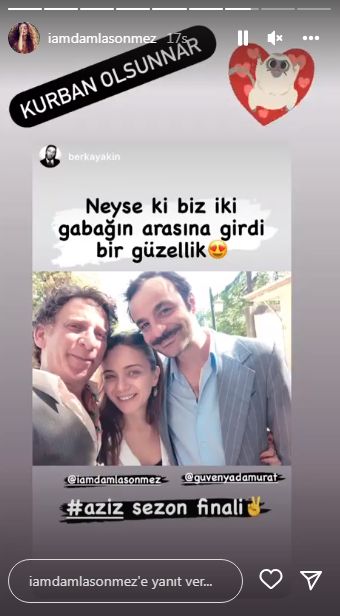 Show TV's support of Aziz was appreciated by the audience. Viewers say that there is potential in the Aziz series and that they believe it will increase their ratings in the second season with the additions to the story. The viewers, who believed that Aziz had a short pause, thanked Show TV for giving Aziz a chance.