The ambitious TV series of TRT 1 screens, Yürek Çıkmazı (Heart Impass), starring Alp Navruz, İrem Helvacıoğlu, Ayça Bingöl and Mesut Akusta, marks Tuesday evenings with its emotional story.
Alp Navruz and İrem Helvacıoğlu are eye-catching with their partnership in Yürek Çıkmazı, which brings to the screen the story of a man with a personality disorder and a woman trying to hold on to life with her children.
The duo always keeps the excitement high with their frequent posts on social media from the set. Alp Navruz made a name for himself with his Instagram post just before the broadcast of the series. The actor posted a photo with İrem Helvacıoğlu and wrote, "Tea is ready, we are waiting for the new episode like this".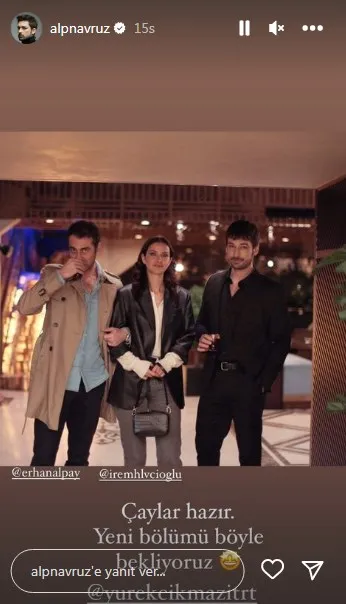 In the 6th episode of Yürek Çıkmazı, which was broadcast on Tuesday, December 13, exciting developments took place once again.
Refusing to see the violence inflicted on her mother and siblings, Feride embarked on a journey back to her childhood with the bloody Yemeni left by Cennet.
On the other hand, Halil, who learned that the case would be closed due to lack of evidence, wanted to talk to his sisters once again.
The three siblings met in the house where they had been hiding from Yılmaz years ago. While there was a showdown in which everyone spilled the stones on their skirts, Feride made a decision that determined their future, just like years ago. Yürek Çıkmazı will air on TRT1 with its new episode on Tuesday, December 20.