The Masumlar Apartmanı series is among the popular and successful productions on TRT1 screens. Although the series, which received great acclaim with its first season, lost some blood in the second season, its regulars still look at the screen with curiosity every week.
Ezgi Mola, who returned to the TV series after 8 years with the Masumlar Apartmanı, which was quoted from Gülseren Budayioğlu's novel compiled from her real life story, often shares her tiring but equally pleasant working environment.
The actress often shares social media with names such as Merve Dizdar, Birkan Sokullu, Aslıhan Gürbüz, Esra Rusan, Melisa Şenolsun, Gizem Katmer, with whom she starred in the series.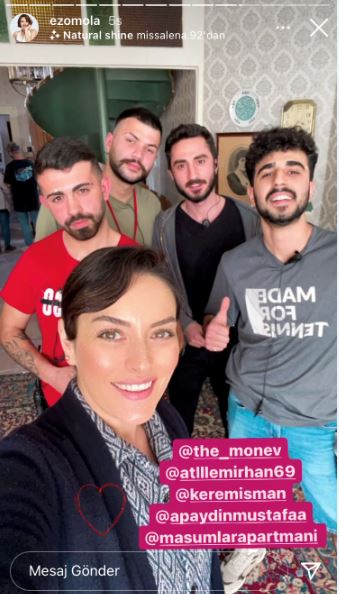 As a name who uses her Instagram account effectively, these shares she made from the set are followed with interest. Even though Safiye is a cold and cold woman, whom she played in the TV series Masumlar Apartmanı, Ezgi Mola also reveals her warm, humorous and affectionate personality in her posts.
The shares of Ezgi Mola, with the air that dispels the gloom in the series, attract a special attention. During the filming of the 50th episode, which will be broadcast on Tuesday evening, the actors and staff posed together on the set of the series.
Ezgi Mola made her followers laugh again with her humorous comment on this photo, which is a memory of the 50th episode. Posing by kneeling down on the ground while the whole team is standing, the actress posted this situation with the words "Safiye kneels in front of this team" and a laughing emoji.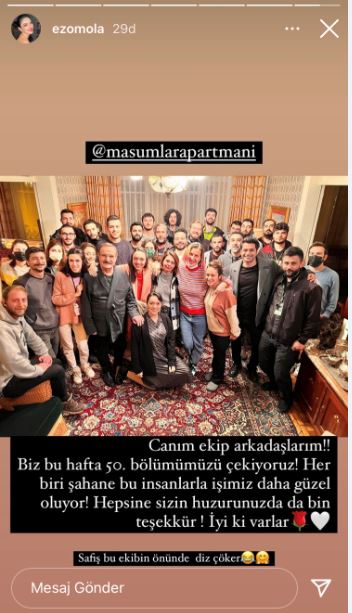 However, even though the actress wrote a half-joking message, she also did not hesitate to put her love and respect for the Masumlar Apartmanı team into lines…
Ezgi Mola said, "My dear teammates… We are shooting the 50th episode this week. Our work is getting better with these wonderful people. A thousand thanks to all of them in your presence. Glad they exist."
The actress honored her fellow actors and behind-the-scenes team, with whom they worked for hours, with her loyal and emotional words…