Aşk Mantık İntikam (The Love Logic Revenge) series, which started in June of 2021, ended in the same month of 2022. Burcu Özberk and İlhan Şen were in the lead roles in the 42-episode series. Burak Yörük and Melisa Döngel also played remarkable roles in the series that was screened on Fox TV. The two actors said goodbye to the series months before the final.
The series signed by No Dokuz Productions was adapted from the South Korean production of Cunning Single Lady. It became one of the popular romantic comedy productions of the screen. However, it was removed from the screen as the ratings gradually dropped. However, both the partnership of Burcu Özberk and İlhan Şen and the series became one of the unforgettable romantic comedies by the audience!
Among the romantic comedies broadcast in 2022, there were also those who said goodbye to the screen in a short time! Those who satisfy the ratings of the romantic comedy series, which generally start in the summer season, continue on their way in the season. However, it is not too late to take the final decision with their decline in the face of the strong series in the season!
Among the top 10 romantic comedy series that marked the year 2022, Somera, one of the platforms that draw attention with its social media analysis, reveals that the most talked about series on social media is Aşk Mantık İntikam.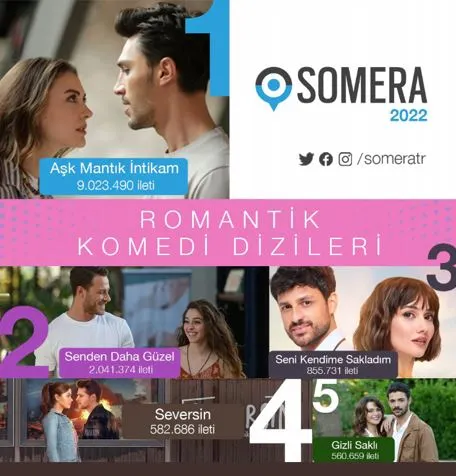 With the number of shares exceeding 9 million, Aşk Mantık İntikam managed to become the most talked about and most popular TV series of the year! The following series is Fox TV's series Senden Daha Güzel (More Beautiful than You). Cemre Baysel and Burak Çelik took the leading roles in the series Senden Daha Güzel, which attracted attention with more than 2 million shares.
Although the series of the two actors, whom the audience liked very much, started ambitious, only 14 episodes remained on the screen. But it still managed to rank 2nd among the most talked about romantic comedy series of 2022!
In the 3rd place of the list, TRT1's Seni Kalbime Sakladım (I kept you in my heart) series, which only stayed on the screen for 7 episodes, was. With nearly 856 thousand messages, the series became a production that managed to reach the top of the top 10 charts! The partnership of Sevda Erginci and Ekin Mert Daymaz in the 7-episode adventure was also appreciated by the audience.