Eda Ece, the actress of the Forbidden Fruit series broadcast on Fox TV on Monday evenings, is among the famous names who use social media effectively. Eda Ece, who is like a social media phenomenon, is in close interaction with her followers. The actress, who shares a lot with her natural and sincere forms, is one of the names that her followers follow with interest.
She is watched with interest with her Yıldız character in the Forbidden Fruit series and is on the agenda with her social media posts. There is a situation that the followers of the player now know very well. She's such an animal lover! She supports campaigns on animal rights.
At the same time, she does not spare her words on many issues related to violence against animals and he makes it at every opportunity. Meanwhile she lives with her cat and dog friends in her house.
The animal love of the actress is not just about giving images from social media! Unlike many people, she doesn't hesitate to take responsibility. Wherever there is an animal in need in summer or winter, she takes it to the veterinarian, gets it treated and tries to adopt it.
She feeds animals wherever she sees with the food she carries. She supports the stray animals whenever she can. Of course this is known. We do not know what more support we do not see. However, those who follow her account know very well that the actress is not in essence but a so-called animal lover.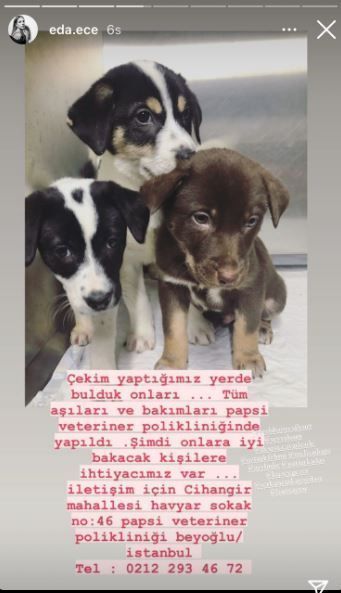 Finally, Eda Ece got up from her warm house with the falling air temperature and snowfall in Istanbul, loaded her food and started to feed the animals she saw on the streets.
Like cats and dogs, seagulls and crows, who had trouble finding food when it snowed, also benefited from the food he gave. The actress tried to draw attention to the issue by posting these moments on social media.
Cats and dogs that are hungry in cold weather do not have much of a chance to survive! Moreover, many of them try to warm up by getting inside the wheels, hoods and engines of the vehicles. Here is the actress who shot a video warning the followers about this.
And once again she gained admiration for her behavior, she set an example. This kind of behavior of the names known to millions of people with the series is important in terms of increasing the awareness of their followers.
Here are the frames from Eda Ece's last post …