Aslı Enver, who gained fame after starring in the TV series Kavak Yelleri, made her main debut in the series İstanbullu Gelin (Bride of Istanbul). After this series, Enver, who was away from the screen for a long time, returned to television with the Babil series.
Aslı Enver took a break from the series when the Babil TV series, in which she starred with Halit Ergenç, Birce Akalay and Nur Fettahoğlu, made an early finale.
In this process, the actor took part in a theater play called Sırça. In the play, İpek Bilgin and Güven Murat Akpınar, who played together in the Istanbullu Gelin series, also took part. Acclaimed for her role in the play, which attracted great attention, Aslı Enver is currently resting and often gets together with her family and friends.
In this process, the fans who saw the little girl in her arms in the last Instagram post of the actress, who focused on social media shares, could not believe the similarity of the actress and the child.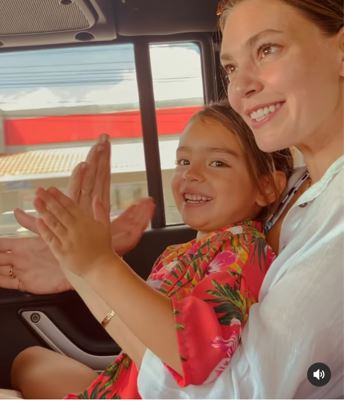 The little girl in the photographs was none other than Aslı Enver's niece. Aslı Enver, who shared a video of her past fun moments with her little niece, the daughter of her brother Akın Enver, who lives in Mexico, on her Instagram account with the hashtag #tb, satisfied her longing for her niece.
 

Bu gönderiyi Instagram'da gör

 
The actress, who still takes great care of her niece, often goes to see her. As they grew older, Liya and Aslı Enver, who looked more like her aunt, enchanted their fans with their fun in the car.
Little Liya's facial features and facial expressions were very similar to her aunt Aslı Enver, which did not escape the attention of her followers.
The actress, known to have agreed with Disney Plus for her new project, seems to continue to rest and take a vacation until the shooting begins.